With the Covid-19 pandemic not seeming to halt anytime soon, companies across the world have gone remote within a matter of days, forcing thousands of unprepared managers and teams to embrace the unexpected reality and challenges.
If you and your team are making the transition for the first time, it is likely that you are navigating through a lot of new processes to make the transition smooth.
And to help you in this endeavor, we compiled a list of tools which will help you manage your remote teams effectively in these tumultuous times.
Top remote work tools to help you manage effectively
To help you make the right choice, we have listed tools as per neat categories.
Video conferencing:
When you work remotely, it is important to create a vibe during the meeting. And that cannot happen unless the attendees can see each other.
1) Zoom
Zoom is a video conferencing and audio calling software that is widely used by remote teams to connect during a video meeting. It allows you to record any call with a full-length video, which you can use later as a reference too.
You can also share your screen with the team for effective discussions.
Free version of the tools allows you to host up to 100 participants, unlimited 1-to-1 meetings and more.
2) Skype for business
Skype has been there since forever! Skype for Business is a redesigned and rebranded Microsoft Lync and is best suited for large businesses and teams.
If you are using Microsoft Office, you can easily integrate it into Office 365.
 3) WebEx
Cisco WebEx offers integrated audio, video, and content sharing with highly secure web meetings from Cisco WebEx cloud.
It is used for video and audio conferencing and is designed to fit remote work demands.
 4) Whereby
Whereby, formerly known as appear.in, is a browser-based video meeting tool with an emphasis on ease of use. It does not require you to download or login as guests to start.
The free version allows you to add up to four participants, provides desktop & mobile access, allows screen sharing and YouTube integration.
5) Google Hangouts
Google Hangouts is a popular tool that provides you free access to video, voice and messaging.
It allows you to sync across multiple devices, record calls and save them as YouTube videos. 
Communication:
 Effective communication is vital when working remotely. Your team needs to hear from you more often in times of distress.
This is the time they need to know you care and is also your opportunity to strengthen your bond with them.
 6) Slack
Slack is an undisputed champion when it comes to communicating with your team. It brings all your communication at one place, and is the closest having a virtual office.
Team can have personal and public conversations by instant messaging and channels.
You can also integrate your existing tools with Slack, which makes it an all-inclusive software.
Virtual Games for Remote Teams
CoffeeConnect connects two people every week based on their interests in slack and helps them build camaraderie easily with ice-breakers questions, rapid-fire quizzes and virtual coffee.
 7) Microsoft Teams
If you use Microsoft 365, this is a great software to have. It is a hub for teamwork in Office 365 to keep all team's chats, meetings, files, and apps in one place. 
One-on-One Meetings:
One on one meetings are your gateway to understand and connect with your team, especially in the wake of the Covid-19 outbreak, when it's easy for them to fall prey to stress and get worried about their own and families' health.
And one-on-one meeting software becomes indispensable at this time.
8) Peoplebox
Peoplebox's one-on-one meeting software allows you to set agenda collaboratively with your direct reports, take notes during the meetings, convert notes to action item in a single click, and track action items effectively.
The software also allows you to gather continuous feedback, and shows a performance & motivation chart for each employee.
Documentation
:
Documentation becomes all the more important when working remotely. You would want to use collaborative documentation tools which will allow you to create and share documents real-time as well.
 9) Notion
Notion is a fairly new tool, but is being widely used by teams, that allows you to take notes, organize tasks, manage projects and more.
Notion calls itself an all-in-one workspace where you can write, plan, collaborate and get organized.
 10) Slite
Slite is an easy-to-use collaborative documentation tool that allows teams to write and structure the documents.
They like to call themselves 'a collaborative writing space for your team'.
  11) Google Docs
Google Docs remain the oldest and the most reliable tool when it comes to collaborative documentation.
Many managers use Google Docs to keep a track of team activities, meeting notes, share ideas, and organize work effectively. 
Collaboration:
12) Miro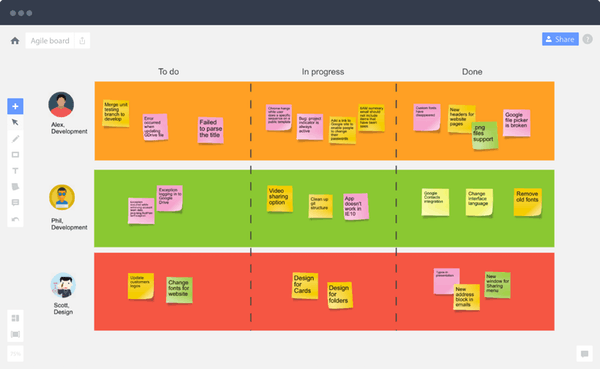 Miro is an online collaboration and whiteboarding platform for teams and organizations of all sizes.
The cloud-based visual collaboration tool helps teams to virtually come together and brainstorm effectively, irrespective of where you are working from.
The free plan allows you to add unlimited team members and provides premade templates as well.
 13) Tandem
Tandem is a collaboration software that allows remote teams to collaborate quickly and more than 40 app integrations. Interestingly, it provides shared cursors, which users have found better than screen-sharing. 
Cloud Storage / File sharing:
 You may have large-sized documents or files to be exchanged with your team when working remotely.
Unlike working in an office, you cannot just walk up to their desk and show them that 100mb presentation or research or a brand video you might be referring to.
This is where a cloud storage / file sharing software helps.
 14) Google Drive
This cloud storage platform keeps all your files in one secure and centralized location.
Remote workers can store, share and access large files, documents, spreadsheets, and more with Google Drive, from any location they might be working from.
 15) Dropbox
Dropbox is a modern space for storing and sharing files.
Remote workers can easily sync, share and collaborate on documents.
If your remote workers want additional functionality and storage space, you can consider Dropbox Business. 
Project management:
Managing projects remotely can be challenging, but technology is here to save the day. With the help of right tools, you can keep track of people, budgets, deadlines, and keep the team on track to achieve your goals.
16) Trello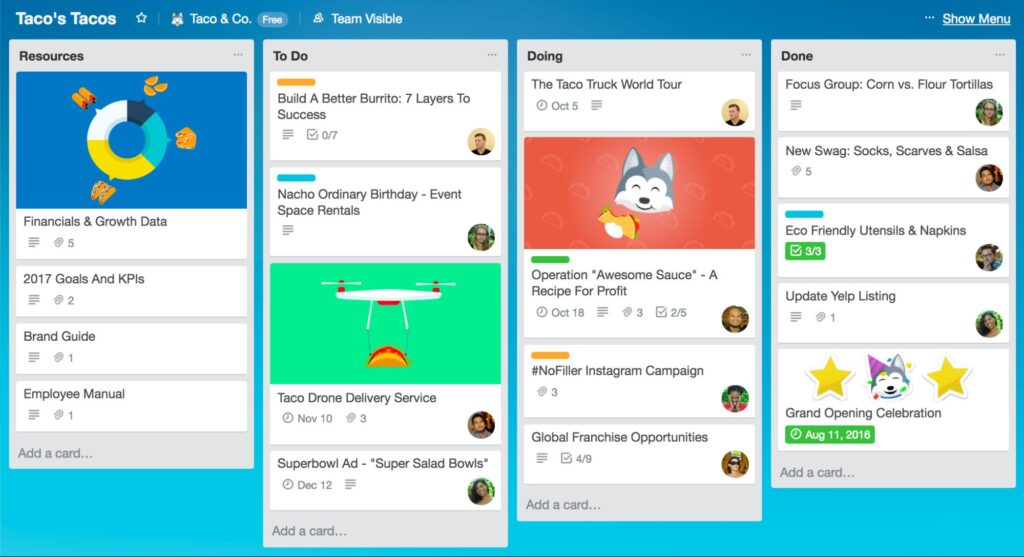 Trello is a visual project management software that is powerful and easy to use. Trello uses boards to manage projects collaboratively.
These boards are divided into Lists, representing different stages of a project, and is further populated with Cards, which represent a specific task, deadlines, attachments, links, assignees, and more.
 17) Asana
Asana is also widely used for project management by remote managers.
It has more features than Trello, but is a little more complicated.
However, it offers an interesting feature called Project Templates, where you just need to input information for your own projects and follow a pre-set process.
 18) Todoist
Todoist allows you to organize, plan and collaborate on projects, both big and small. The tool is built to help managers organize their teams and keep projects on track.
You can see your team's activity stream by project or team member, and also save custom views for upcoming or overdue tasks. 
Security:
 As you get accustomed to working remotely and managing your remote workers, you and your team will eventually be using more than one tool and software to make your life easier.
And to remember login details for each of those accounts can be an add-on you don't want.
 19) LastPass
LastPass is a secure way to store your passwords online, by adding it as an extension to your browser and may also download the app on the device you use.
Interestingly, 1Password is a remote-first team and came into being 14 years ago. It allows your teams to share all necessary passwords with one another, securely.
You can create vaults for different teams and share them with anyone who needs access, while adding an extra layer of protection to keep the data secure.
Screen Recording:
Imagine, you need to teach your team something which would require a demo… Or your team needs to share a product demo or issue with you or among them.
It is easy to do so when you are sharing the workspace, but when you manage remotely, a screen-recording software can solve this problem.
21) Loom
Loom is a free and easy-to-use screen recorder, available for Mac, Windows and Chromebooks.
It lets you record your camera and screen with audio directly from your browser and share it with your team.
Bonus:
To beat stress
Working from home can be stressful if you are not used to it. And to stay sane, you must take regular breaks in intervals, and also unwind in your own way. 
22) Music-streaming apps:
Noisili – The app helps you stream through various sounds and create your perfect sound environment.
Noises.online – This website also allows you to create your own mix of sounds to relax after work or concentrate during work. 
Prevent Isolation & Reduce Burn-out
Send your remote teams for virtual coffee and help them know more about each other with Rapid-fire quiz and interesting ice-breakers.
23) Meditation:
Headspace – This is a guided meditation app and is very easy to use, even if you are new to the concept of meditation. Needless to say, meditation helps in calming the mind and warding off anxiety.
24) Time management:
Vitamin R – Vitamin-R structures your work day around alternating sets of highly focused "time slices" of 15-25 minutes followed by guilt-free breaks.
Toggl – Toggl is an app that helps in keeping distractions away and increasing productivity of your team with the help of a simple time tracker with powerful reports and it works across all devices.
Time Doctor – Time Doctor is an easy-to-use time tracking for the whole team. It allows you to measuring productivity, give off-track alerts, maintain online timesheets, payroll, integrations, and more.
25) Meetings:
Parabol – Parabol is a meeting app used by remote teams, that generates automatic insights about team performance from online collaboration activity. It's perfect for scrum masters and other leaders wanting to conduct a Lessons Learned meeting or team-building exercise.
Wrapping up:
Working from home may have come at a time when many of us were not prepared for the shift.
But now that it is here, and will stay for some time, it is important to start adapting to the trend and find ways to keep yourself motivated, while also keeping the morale of your team high.
And in doing so, let us leverage the technology as much as we can.
PS: Read the 'Remote Manager's Guide to Productive & Motivated Teams' HERE.