"Ben adopted OKRs 6 months back for his organization. Like most, they started OKR reporting by creating updating, and sharing their goals manually using OKR Spreadsheets, Google Docs, PowerPoint, etc.
These were then shared through their internal communication channels like slack, emails, intranet, etc.
In the beginning, it was all they needed to make their OKRs work. But now that his company has scaled and is planning to dive deeper to make OKRs part of the company life.
Their goal tracking is broken. The old manual ways are not enough anymore to track and update OKRs."
This is a common story for many organizations. While tracking OKRs manually in the early stage is ok but continuing this practice as the organization grows is not advisable.
How can OKR reporting impact your OKR performance?
Here are 5 benefits of OKR reporting and tracking-
Tracking helps teams align their goals regularly.
OKR reports help you monitor the OKR progress in your organization at every step and stage.
Continuous tracking helps your team's lessor focus on the things most important.
It improves employee accountability and organizational transparency.
OKR Reports increase employee engagement and boost employee morale.
What is wrong with manual OKR reporting?
Most organizations roll out OKRs with one or two departments or teams or projects. While it's okay to start manually (with OKR spreadsheets, OKR PowerPoint, etc.) to check if OKRs are meant for your organization or not. As you upscale your game, manual OKR reporting becomes almost impossible.
OKR Software - Rated 4.8 on G2
Empower your managers to be a better leader with essential performance tools & personalized coaching support.
When you are doing it at all levels of the organization, the volume of data rises. Manual tracking at this stage removes the fun from the OKR framework. And makes the nitty-gritty a thorn in the flesh.
Here are 5 reasons why manual OKR reporting is not the right choice-
Time-consuming

OKRs are supposed to save your time. But manual tracking and OKR reporting are time-consuming. Manually doing everything can make easy processes look tangled and burdensome. More so if you are a large organization.

OKR reporting and tracking involves- keeping a track on which employees are progressing, which are falling behind; what needs to change in the framework, and what's going well. Doing all this manually will require you to go through thousands of OKR spreadsheets each day.

And you will lose hours on things that could have been done in a few minutes.
Lack of alignment

OKRs are supposed to make your teams aligned. Collaboration and cooperation stand at the heart of the framework.

To achieve the larger goals different teams are required to work on the different aspects of the same organizational objective. For which OKRs need to be aligned both horizontally and vertically across various teams and departments.

But tracking OKRs manually creates silos. Manual tracking doesn't foster absolute transparency as progress is not updated in real-time. This lack of insight may disrupt alignment at all levels of the organization.
Poor employee engagement

OKRs are supposed to increase employee engagement rates. Unautomated tracking makes employees less engaged.

It further complexes the workflow and leads to decreased employee motivation and happiness. It will also increase unnecessary pressure on employees.
High chances of errors

OKRs are supposed to mirror the truth. But errors are meant to happen if OKR reporting is done manually.

Employees need to manually update and manage different documents. This leaves space for mistakes. And directly affects the OKR tracking results and data.

How are you supposed to make the right decisions on the basis of wrong data?
Difficult check-ins

OKRs are supposed to be a continuous process. Follow-up is a necessary part of OKR success. It also helps you check employee pulse and understand the shortcomings.

OKRs success hugely depends on updating whenever and wherever needed. You are supposed to check in frequently to make the required changes at the right time.

What if the team head or the OKR champion is checking in every employee's OKR manually- 0n a daily, weekly, monthly, and quarterly basis. And keeping track of each individual's OKRs (including his own) along with the team's OKRs.

The thought itself is daunting. Imagine your teams going through it.

Click here to read about OKR Cadence and easy tips to set it right
How Can You Fix Your Goal Tracking?
It's true that OKR spreadsheets help you store and sort data. No matter how much you color-code your key results and initiatives on an OKR spreadsheet, you won't get what you really need for OKR reporting.
Whether you are scaling as an organization or you have decided to dive deeper into the methodology. Either way, OKR software is your best solution.
Remember: To stay on top of your OKR tracking, you need OKR software.
Bid farewell to traditional modes of tracking with OKR spreadsheets and OKR powerpoints. And automate your OKR reports with an OKR software solution.
Tracking OKRs manually doesn't let your organization fully realize the benefits of using the OKR framework. OKR software removes these limitations manual methods have.
With OKR software, you don't need to expend any extra effort or resources to measure and track your progress. Your software will make OKR reports for you on how far you have achieved your set goals.
Consider using Peoplebox to help your teams work on shared and measurable OKRs. And accelerate your company growth, employee engagement, and productivity.
Click here to read about 9 Benefits of OKR Software that makes it a must-have tool for hypergrowth
How can Peoplebox help you?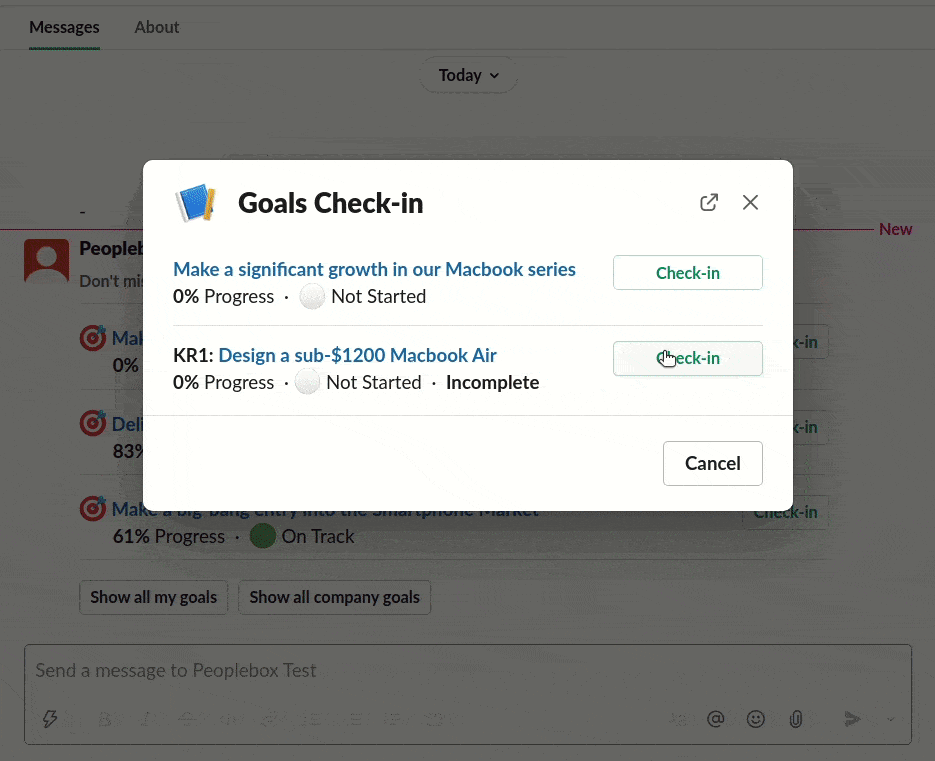 Here are 6 ways in which Peplebox will help you get your hypergrowth on track-
It will help your organization grow 10x by aligning all strategic priorities, goals, and initiatives automatically. So that you can focus on working on your key results.
It will integrate with every work tool your teams use and keep your OKRs updated in real-time. Getting a unified view of progress won't be a problem anymore.
It will automate your KPIs & Initiatives tracking. So that you can get a bird's-eye view of OKR progress across all departments and teams.
"Peoplebox OKR software is an easy way to maintain and keep track of your department and organization level OKRs."- Rohit Aggarwal, senior technical program manager at KhataBook
It will make check-ins easy peasy with the best weeklies & review meetings. You will also receive smart alerts and automated reminders. It will send your team's nudges on slack, MS teams & emails to get updates on goals. So that you don't miss out on anything.
It ensures follow-up on OKRs with 1:1 integration to help you track progress and alignment on each step.
It auto-updates the progress bar of your goals with every update in the key achievements. Thus, helping with better visibility into teams' performance and their goals' progress.
Peoplebox "I think is one of the best goal setting and tracking platforms out there."Jolaade Taiwo, growth marketing manager, CarrierBuddy.
The crux is, with Peoplebox, you and your teams will have the full picture on a single page. It lets your teams track KPIs, run projects wherever they want, and get data from their preferred tools. From top to button everyone in the organization will have a track on what is driving the company and what's their role in it.