The dawn of 2020 brought about a new wave in workplace dynamics and corporate culture. 
Right now, remote work has become the backbone of our economy and its functioning.
Managers need to adjust to these new developments and learn to manage remote employees effectively to continue getting the required results. 
As per the report, around 43% of the total US workforce worked off-site. 
This number has risen dramatically in the wake of the Coronavirus pandemic. 
Naturally, the biggest challenge for the managers presently is to adapt themselves to work with remote employees. 
Handling employees who share your office space and managing remote workers require you to adjust your approach from being method-oriented to result-oriented.
You may need to get more familiar with technology for communication and coordination. 
To put it simply, a manager needs to realign herself for getting accustomed to new practices for leading and managing remote employees.
So, whether you're transitioning your employees to remote work as a result of a pandemic or are planning to hire remote workers for diversity, you are required to adopt a different perspective. 
In this article, we throw light on ways that can help you manage remote employees effectively. 
But before divulging into this matter, let us first address a few common challenges that you may face while managing remote employees.
Common challenges faced by remote employees
1

No face to face contact
Meeting your direct reports every day has many benefits which you would realize only when working with a remote team. 
The ease of just dropping in to clear a doubt or have a quick update session vanishes with remote work.
Now, you need to send an invitation for a virtual meeting and it feels more formal than it actually is.
Moreover, meeting an employee every day also helps in understanding their mood, motivation level and productivity without having to indulge in verbal communication. 
Virtual communication leaves less or no scope for non-verbal cues. 
2

Barriers in digital communication
How often do we end up missing out on an important email because it went to the spam folder? 
With all its benefits, digital communication has quite a lot of bottlenecks which can hamper coordination.
When you work with remote employees, you cannot peer over their cubicle and discuss an issue with them. 
Simple bottlenecks may require you to take multiple calls which depend on external factors like internet bandwidth and equipment. 
Hence, change in communication methods may take a while to get used to. 
3

Distractions and disturbance
Meetings with remote employees come with their own background noise. 
You may hear a toddler crying or perhaps, a waiter asking for the order if they're working from a coffee shop. 
You're no longer in a conference hall with noise-cancelling doors and windows.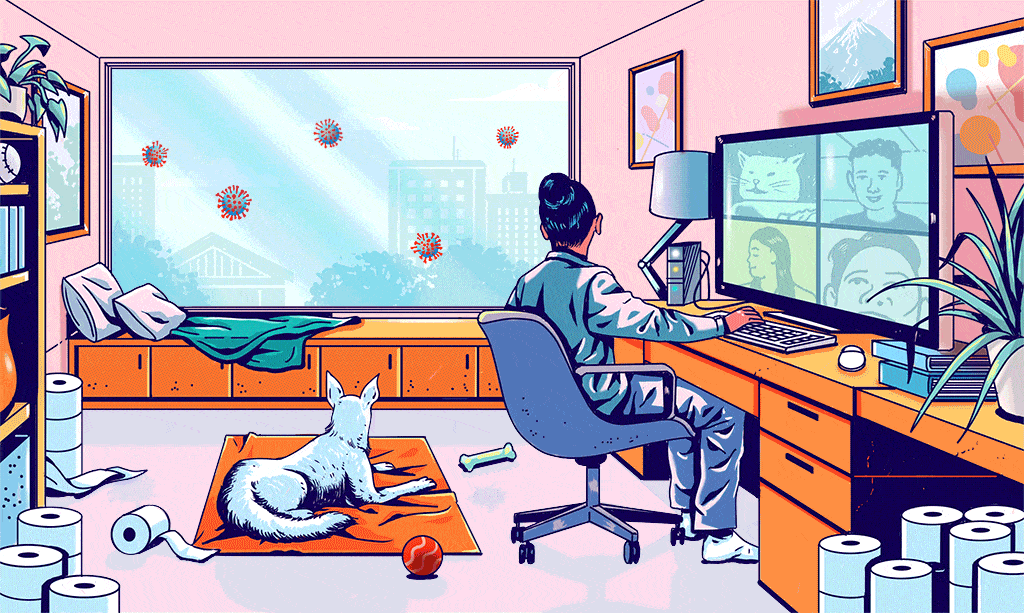 Moreover, your remote employee is not restricted to your office premise. 
She may work as per a different schedule and you would have to get familiar with it. 
In case of a situation like the present Covid-19 crisis, most of your employees are dealing with much more than just work-related stress including uncertainty about future and health-scare. 
4

Isolation and loneliness
When an employee works in an office space, they are surrounded by their office colleagues who often become their social circle. 
As they resort to remote work, they lose touch with human interaction and are glued to their screen without a break.
This isolation due to remote work may even lead the best of your talent to become sluggish, uninterested and prone to mistakes. 
In a situation like present when social distancing has become the norm, forced isolation has even led to anxiety and mental fatigue. 
Just like every other benefit, remote work too has bottlenecks. 
However, with the right methods, you can find a way to make the best of any situation and manage remote employees with ease. 
Prevent Isolation & Reduce Burn-out
Send your remote teams for virtual coffee and help them know more about each other with Rapid-fire quiz and interesting ice-breakers.
12 tips to manage remote employees effectively
1

Set a routine of morning check-in
In an office, an employee's day begins with her ride to work and casual banter with her colleagues. 
Some organizations have a routine of a daily stand-up where they discuss tasks and a plan for the day. 
These quick meetings and customary greetings help one switch to work mode.
Despite its perk of saving you from the morning traffic, remote work devoid us of these little things that help one focus on the workday.
So then, how does a manager ensure that her remote employees are set for the day? One way is to replicate the daily stand up meeting/ scrum call/ status update meeting virtually. 
You can have a group call and discuss the plan for the day with everybody. 
You can also switch to starting the day with a "good morning" text on your group chat. The idea is to keep in touch with your remote employees throughout the day and remain available if and when they need you. 
These small gestures go a long way in helping remote employees remain focused, productive and more importantly, engaged. 
2

Find a suitable way of communication
When we work from home, the quality of communication largely depends upon the tools you're using. 
Some theories encourage video communication while some experts swear by the effectiveness of text messages. 
However, there's no one-size-fits-all approach.
You need to find a tech tool which works best for you and your remote employees. 
Make sure that you test it and see how it works for a few days.
Once you have found a common tool and method, your communication will feel more effortless and organic. 
PRO TIP: Let your direct report suggest the tool they prefer. It would mean that they're already comfortable with it and will ease the remaining process. 
3

Use video calls, but only when necessary
If you start googling for ways for keeping your remote employees engaged, video conferencing will probably be the topmost tip.
And, why not? It helps you bring a personal touch to the conversation. It also ensures that your direct report is attentive and focused on the meeting. 
However, in recent times, there has been a new thought process in this regard. 
After the coronavirus pandemic hit us, most of us had to resort to remote work. 
As a result, video conferencing became a huge part of the day. Every minute conversation has become a reason for a long video call.
On average, an employee spends more time in video meetings these days than working for real. 
Today, most of us can vouch for the fact that we feel more tired these days than we felt before. 
This tiredness has been coined as a new term called 'Zoom fatigue' which refers to the mental exhaustion caused by video calls.
In a video call, we are constantly looking at a screen without any option of relaxing yourself or averting your gaze. 
Does this mean you should completely avoid video calls? And if yes, then what are the other options?
Well, the answer lies in moderation. 
You need to find a middle ground where your video calls do not become intrusive or burdensome for your direct report. 
Here are a few tips to help you find the right balance – 
Reduce the duration and the frequency of video calls. A weekly video check-in for a few minutes can prove to be a good refresher instead of a daily call.

Always ask your direct report if they are up for a video call. Give them an option to choose an audio call instead. 

If you're not familiar with an employee, it is best to give them time adjusting to video interactions to avoid any awkward feeling. 
4

Make one on one meetings a ritual
The fact that one on one meetings are crucial for management is well-established. 
However, these meetings become even more important when you're working with remote employees. 
When your direct reports work from home, their communications tend to become routine and only task-related. 
There are no chances for you to meet them in the hallways or get to know them over a team lunch. 
The lack of these informal conversations leads to an adverse impact on interpersonal relations between a manager and remote employees. 
This affects how an employee perceives herself, her self-esteem and her productivity.
One on one meetings can help you hold your remote employee's hand and guide them towards a better performance.
These meetings can become your aid in establishing a deeper bond with your remote employees.
As we discussed before, employees tend to feel lonely and isolated.
In the words of Kim Scott, author of Radical Candor:  
Probably the most important thing you can do to build trust is to spend a little time alone with each of your direct reports on a regular basis.
When you take some time to listen to them, they feel valued and cared for. 
They realize that their voice and concerns are being heard at the organization.
While working remotely, an employee might feel lost and abandoned. 
A one on one meeting can help you assure them that their role is important and their tasks form an essential part of the great organizational goal. 
The benefits of one on one meeting are plenty; all you need to do is strike the right conversation ( and do it regularly). 
Pro Tip: If you're unsure of how to begin the right conversation during your one on one meeting, you can always take help from online one on one meeting tools. 
From setting an agenda to reminders for follow up, they can help you improve the quality and output of your one on one meetings.
Effective One on One Meetings
We built a software that automatically schedules, lets you set agenda, take notes, exchange feedback and track actions – all in one place.
5

Be mindful of the time zones
The biggest perk of a remote job is getting to work with talent from across the globe. 
When you hire remote employees, you can move beyond geographical boundaries and can choose your team based on sheer talent. 
While it is great to have a mix of diverse employees from different backgrounds, it can become a little daunting to manage them.
In most cases, when a manager's day ends, the day for her direct reports' begins. 
For remote employees, recognition also leads them to the realization that their contribution is visible and being noticed at the workplace.