The pandemic affected the world economy real bad. A lot of companies are still struggling to get over it. While they struggle, the world has started mustering the economic crises predicted for 2023. As we talk about prediction, we also see Meta laying off 13% of its workforce, more than 11,000 employees. Amazon announcing laying off 18,000 employees. The rising inflation, and mass layoffs by large corporations to save costs, indicated tough times ahead. And now a clear warning comes from the IMF chief about 1/3rd of the globe to suffer recession.
It is inevitable for even the best-run businesses to dodge the negative impacts of such economic conditions. And while the U.S. economy showed growth in the third quarter of 2022, Goldman Sachs forecasts a 35% probability of recession in the next 12 months. Ned Davis Research Inc. puts the odds at 65%. With uncertainty lingering upon the world, companies need an action plan to build resilience toward the coming grave change.
That is where OKRs come to the rescue. They serve as the company backbone, maneuvering through economic uncertainty. It brings with it a practical management approach to navigate through the recession. When you implement OKR, your set the stage for a highly focused strategy that aligns the company goals and individual tasks of employees. In the volatile market, this strategic approach not only lets you outlast recession but also ensures you successfully achieve all your goals.  OKRs as a goal-setting framework help bridge the gap between strategy and execution by enabling better alignment, focus & accountability in execution.
OKRs clearly define company Objectives and Key results creating a sturdy tracking process with visibility for everyone to check progress and set accountability to achieve goals. It is a robust goal-setting process. It turns business strategy into measurable objectives.
In this blog, we will talk about the impact of the recession on business and how to manage recession with OKR, and strategies to navigate through it successfully
1

Focus
Overview of How Recession Can Affect Economy
In layman's language, a recession is a period of negative GDP growth accompanied by a high unemployment rate. It is a significant downturn in the economic activities of a country. While recession does not affect everyone the same way. It does affect everyone. For example, some people get laid off. Others suffer lower-than-ever revenues and cash flow issues due to delayed payments. Large companies cope with this by letting go of people and negotiating cheaper deals.
In 2022 alone, about over 120,000 employees lost their jobs from the biggest tech companies–Netflix, Amazon, and Meta. Google also announced 10,000 layoffs. It is not only layoffs that happen during recessions. It also includes:
A high decline in sales due to the low purchasing power of customers
Bankruptcy and tightening of credit conditions
Pay cuts and layoffs
A significant decrease in product quality
Fall in stock prices, dividends, etc
To fight this extreme change and survive well, OKR ensures that the business continues to be agile. It becomes paramount to have an approach centered on attaining results during the recession. 
OKRs align priorities and strategic execution and ensure all employees share the company's vision. It is also important because businesses cannot afford to waste time and resources at times like these. Making wrong decisions and moving in the wrong direction can cost the company its existence.
This brings us to the point where we dive into finding solutions to this problem.
Important OKR Strategies to Navigate Recession
OKRs provide the management and the employees with a direction to focus. It establishes specific goals and tasks to achieve those goals for everyone. The best example to prove its success is Intel's Operation Crush launched in 1979. The marketing strategy focused on understanding customer needs and offering the ideal solution to their problems. This strategy was combined with Andy Grove's OKR approach.
 The entire Intel workforce came together to beat the competition and were successful. They recaptured 85% of the market share of the particular product they launched their strategy for to fight Motorola.
The strategies to help you achieve the toughest-looking goals during the recession are:
Adopt an agile OKR process
Agility has been one of the most crucial parts of surviving difficult situations in business. Especially when it comes to recession-proofing your business. Agile OKR strategies allow you to adapt to change quickly. It is one of the top drivers for efficiently operating in uncertain times. Agile OKRs involve using agile techniques such as a sprint and scrum to build OKRs that lead to building a holistic goal strategy. 
Define your strategic goal clearly by stating the desired measurable outcomes precisely. Along with 'what' also state 'why' in your objectives.
State if your key results are based on confirmed success factors (tried and proven practices) or potential success factors (based on hypothesis).
Periodically review key results against KPIs to ensure quick pivot in case of red flags 
Lay out initiatives and activities contributing to the success of OKRs.
Adopting agile OKRs helps you align work with the company mission. It encourages employees and boosts productivity. It brings attention to the goals for complete alignment at all organizational levels. It allows adaptation to changes faster. It helps you identify issues sooner. It enables you to determine areas of improvement early and direct employees' focus to work collaboratively.
OKR Software – Rated 4.8 on G2
Empower your managers to be a better leader with essential performance tools & personalized coaching support.
Budgeting control is not ultimate
The recession creates a scarcity of resources. This leads organizations to cut budgets and allocate them to other areas. It often leads people to believe that it will help their business survive. When in reality, it requires strenuous innovation and strategic thinking. Budgeting is only one aspect that needs your focus. You also need to protect customers and employees from the economic crisis. You need to achieve operational efficiency and ensure everyone works cohesively. You have to ensure aligning their strategic objectives with company goals.
Your focus should be on improving the business results. Well-designed OKR strategies let you pivot quickly during the recession. It helps you strategically adapt your goal-setting and budgeting processes.
Create an agile recession and pre-recession plan focusing on business outcomes and cost reduction
Align financial planning with company goals and OKRs instead of just budgeting for quick solutions
Track the progress with a robust tool. It should provide insights into areas requiring optimization and help set OKRs using KPIs.
Launch initiatives to drive efficiency and robust management of costs without derailing efficiency
Focus on alignment and efficiency
Goal alignment is critical not only during the recession but at all times. During a recession, it becomes consequential. With everything under stress (finances, markets, sales, customers), achieving efficiency is difficult. OKRs save you from losing focus on creating an efficient strategy. It enables you to align the strategic objectives for all teams to work cohesively.
OKRs provide employees with a clear framework to work with and measure their performance and progress. It aligns strategies to ensure everyone is well aware of their goals. In achieving such alignment, communication plays an important role. 
Clearly communicating changes in the strategies and goals, and the reasons behind them ensure that employees understand what changed and why. OKRs align everyone and let them focus on areas requiring improvement and high-impact areas. It also facilitates optimal utilization of resources with a collaborated effort.
Create OKRs using a bi-directional approach–top-down and bottom-up. This helps bring innovative thinking and ideas into your strategy.
Monitor and conduct check-ins weekly to assess the effectiveness of the OKRs, determine changes and adapt quickly.
Use tools to find areas of improvement faster and use agile OKR strategies to focus on them
Define OKRs for each team separately. This aligns everyone to work towards a shared vision and drive strategy execution effectively
Define the interdependencies of teams and structured communication channels
Spend time and resources on driving high-impact growth activities
Track your OKR performance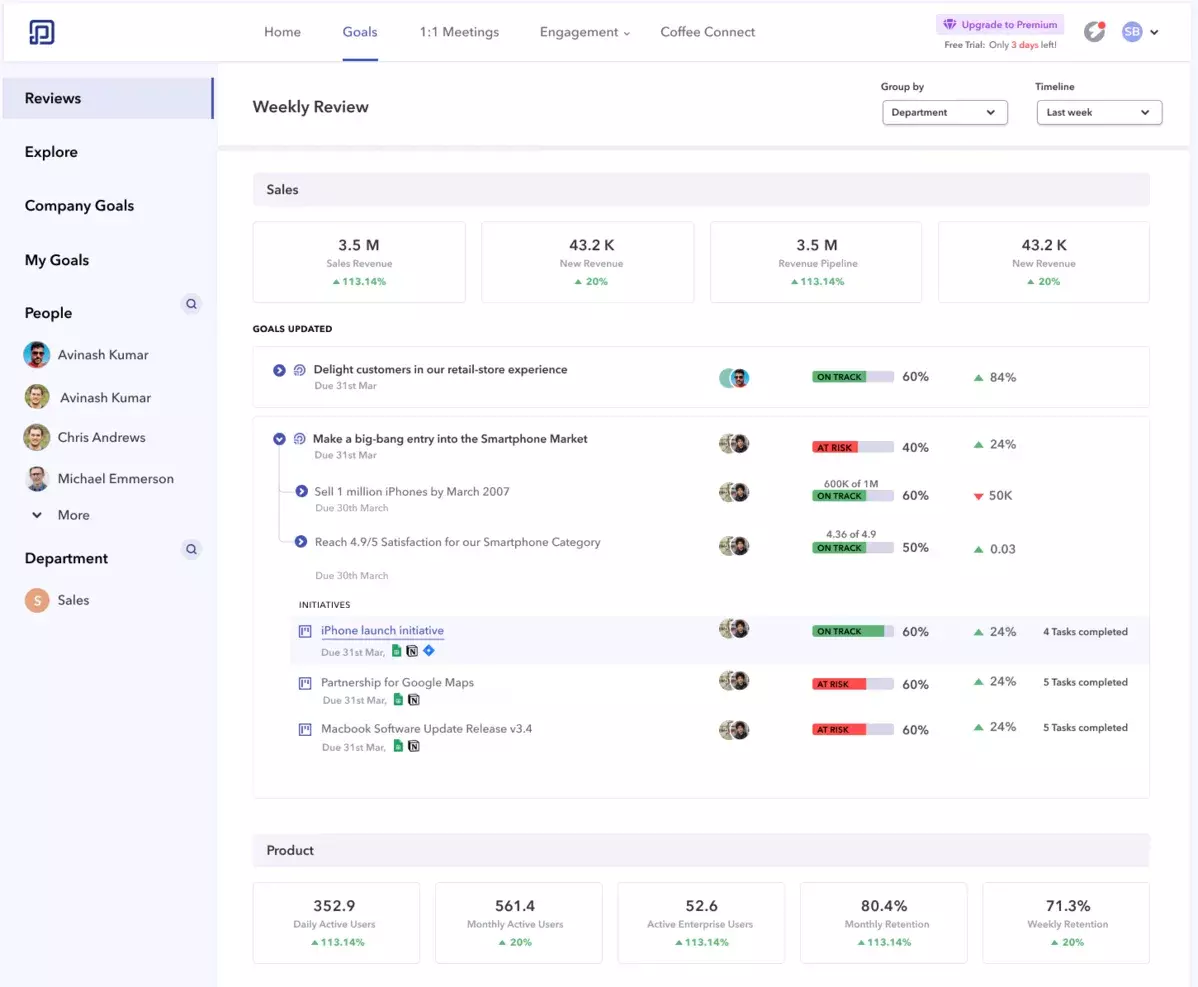 Source: peoplebox.ai
Focusing too much on planning and not tracking the progress leads to a disaster. When navigating through the recession, tracking your OKR performance ensures quickly reviewing progress. Which in turn allows adapting faster, if needed. You can identify issues before it is too late.
Keeping an eye on the OKR performance lets you identify trends.  It lets you make adjustments to sail through a recession.
Assign percentage benchmarks for the key results for accurate measurement of your progress
Set accountability and responsibility for the key results and define expectations clearly
Review at a regular cadence. Set meeting daily, bi-weekly, and weekly to discuss OKRs as a team
Discuss if any key result fell short or exceeded expectations to learn from them
Focus on industry trends
Focusing on the industry trends ensures that you stay aligned with what the market needs and how it behaves. It helps you prepare by watching how others pivot strategies during a recession. It also shares where your business is heading. For example, a trend that the tech industry witnessed recently was layoffs. This indicated many small business owners to prepare themselves for the difficult times ahead. It enables you to adopt better business practices.
How to Make a Goal Setting OKR Framework for your Organization
Conclusion
Being in business comes with a lot of uncertainty that affects your success. With OKRs you get a robust goal management system. It lets you pivot fast and prepare for unfortunate economic environments like the recession. While you may set goals and develop strategies, it is paramount that you ensure everyone focuses on achieving the OKRs. 
A lot of time, companies fail to implement OKRs in the lack of an efficient tracking framework. Peoplebox's OKR management system ensures that your business OKRs are perfect. It focuses on keeping track of your progress and presenting an overview of your strategy execution.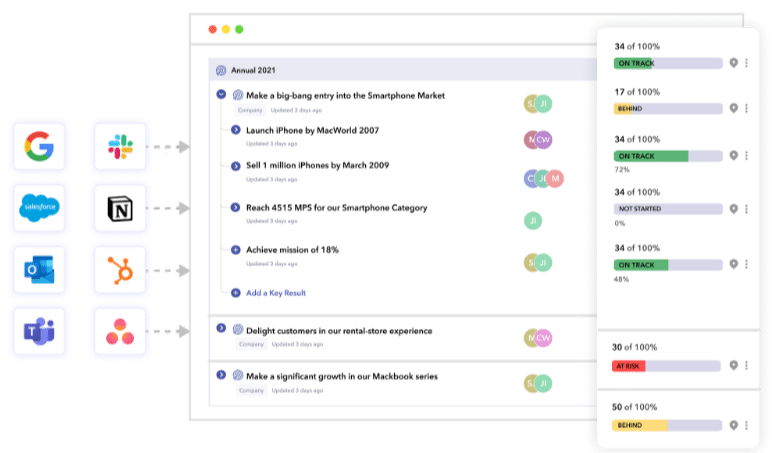 Source: poeplebox.ai
It helps you set strategic priorities to keep your focus aligned even during the hard times
It offers real-time tracking of progress which helps in developing pivot plans to stay ahead of approaching recession
It seamlessly integrates with more than 50 tools like Slack, Notion, Asana, Jira, etc. to automate tracking and monitoring goals and projects effortlessly. It gives a unified single-page view of your progress, updates goals, and sends notifications quickly to align everyone
To implement a strong OKR execution strategy and prepare for impending recessions, Peoplebox offers the perfect OKR solution. 
To get an OKR overview book a demo with Peoplebox today!