Note: This blog is tailored for HR professionals looking to set up and improve peer review feedback within their organization. Share the article with your employees as a guide to help them understand how to craft insightful peer review feedback.
Effective employee performance evaluation plays a pivotal role in both personal growth and the maintenance of a productive, harmonious work environment. When considering the comprehensive perspective of 360-degree evaluation, peer review feedback emerges as a crucial element. In this article, we'll explore the importance of peer review feedback and equip you with powerful peer review examples to facilitate the process.
Peer review feedback is the practice of colleagues and co-workers assessing and providing meaningful feedback on each other's performance. It is a valuable instrument that helps organizations foster professional development, teamwork, and continuous improvement.

Why are Peer Reviews Important?
Here are some compelling reasons why peer review feedback is so vital:
Broader Perspective: Peer feedback offers a well-rounded view of an employee's performance. Colleagues witness their day-to-day efforts and interactions, providing a more comprehensive evaluation compared to just a supervisor's perspective.
Skill Enhancement: It serves as a catalyst for skill enhancement. Constructive feedback from peers highlights areas of improvement and offers opportunities for skill development.
Encourages Accountability: Peer review fosters a culture of accountability. Knowing that one's work is subject to review by peers can motivate individuals to perform at their best consistently.
Team Cohesion: It strengthens team cohesion by promoting open and constructive communication. Teams that actively engage in peer feedback often develop a stronger sense of unity and shared purpose.
Fair and Unbiased Assessment: By involving colleagues, peer review helps ensure a fair and unbiased assessment. It mitigates the potential for supervisor bias and personal favoritism in performance evaluations.
Identifying Blind Spots: Peers can identify blind spots that supervisors may overlook. This means addressing issues at an early stage, preventing them from escalating.
Motivation and Recognition: Positive peer feedback can motivate employees and offer well-deserved recognition for their efforts. Acknowledgment from colleagues can be equally, if not more, rewarding than praise from higher-ups.
Now, let us look at the best practices for giving peer feedback in order to leverage its benefits effectively.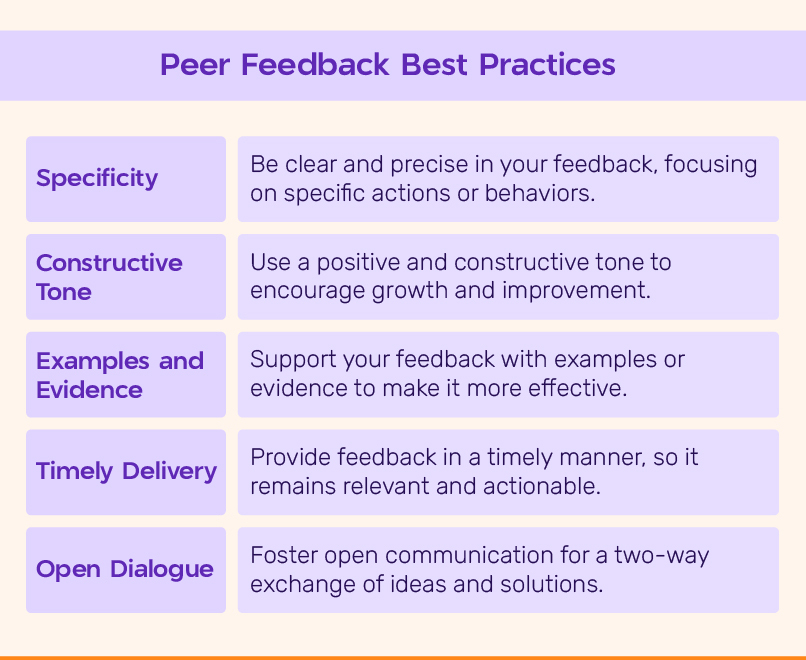 30 Positive Peer Feedback Examples
Now that we've established the importance of peer review feedback, the next step is understanding how to use powerful phrases to make the most of this evaluation process. In this section, we'll equip you with various examples of phrases to use during peer reviews, making the journey more confident and effective for you and your team.
Must Read: 60+ Self-Evaluation Examples That Can Make You Shine
Peer Review Example on Work Quality
When it comes to recognizing excellence, quality work is often the first on the list. Here are some peer review examples highlighting the work quality:
"Kudos to Sarah for consistently delivering high-quality reports that never fail to impress both clients and colleagues. Her meticulous attention to detail and creative problem-solving truly set the bar high."
"John's attention to detail and unwavering commitment to excellence make his work a gold standard for the entire team. His consistently high-quality contributions ensure our projects shine."
"Alexandra's dedication to maintaining the project's quality standards sets a commendable benchmark for the entire department. Her willingness to go the extra mile is a testament to her work ethic and quality focus."
"Patrick's dedication to producing error-free code is a testament to his commitment to work quality. His precise coding and knack for bug spotting make his work truly outstanding."
Peer Review Examples on Competency and Job-Related Skills
Competency and job-related skills set the stage for excellence. Here's how you can write a peer review highlighting this particular skill set:
"Michael's extensive knowledge and problem-solving skills have been instrumental in overcoming some of our most challenging technical hurdles. His ability to analyze complex issues and find creative solutions is remarkable. Great job, Michael!"
"Emily's ability to quickly grasp complex concepts and apply them to her work is truly commendable. Her knack for simplifying the intricate is a gift that benefits our entire team."
"Daniel's expertise in data analysis has significantly improved the efficiency of our decision-making processes. His ability to turn data into actionable insights is an invaluable asset to the team."
"Sophie's proficiency in graphic design has consistently elevated the visual appeal of our projects. Her creative skills and artistic touch add a unique, compelling dimension to our work."
Peer Review Sample on Leadership Skills
Leadership ability extends beyond a mere title; it's a living embodiment of vision and guidance, as seen through these exceptional examples:
"Under Lisa's leadership, our team's morale and productivity have soared, a testament to her exceptional leadership skills and hard work. Her ability to inspire, guide, and unite the team in the right direction is truly outstanding."
"James's ability to inspire and lead by example makes him a role model for anyone aspiring to be a great leader. His approachability and strong sense of ethics create an ideal leadership model."
"Rebecca's effective delegation and strategic vision have been the driving force behind our project's success. Her ability to set clear objectives, give effective feedback, and empower team members is truly commendable."
"Victoria's leadership style fosters an environment of trust and innovation, enabling our team to flourish in a great way. Her encouragement of creativity and openness to diverse ideas is truly inspiring."
Feedback on Teamwork and Collaboration Skills
Teamwork is where individual brilliance becomes collective success. Here are some peer review examples highlighting teamwork:
"Mark's ability to foster a collaborative environment is infectious; his team-building skills unite us all. His open-mindedness and willingness to listen to new ideas create a harmonious workspace."
"Charles's commitment to teamwork has a ripple effect on the entire department, promoting cooperation and synergy. His ability to bring out the best in the rest of the team is truly remarkable."
"David's talent for bringing diverse perspectives together enhances the creativity and effectiveness of our group projects. His ability to unite us under a common goal fosters a sense of belonging."
Peer Review Examples on Professionalism and Work Ethics
Professionalism and ethical conduct define a thriving work culture. Here's how you can write a peer review highlighting work ethics:
"Rachel's unwavering commitment to deadlines and ethical work practices is a model for us all. Her dedication to punctuality and ethics contributes to a culture of accountability."
"Timothy consistently exhibits the highest level of professionalism, ensuring our clients receive impeccable service. His courtesy and reliability set a standard of excellence."
"Daniel's punctuality and commitment to deadlines set a standard of professionalism we should all aspire to. His sense of responsibility is an example to us all."
"Olivia's unwavering dedication to ethical business practices makes her a trustworthy and reliable colleague. Her ethical principles create an atmosphere of trust and respect within our team, leading to a more positive work environment."
Feedback on Mentoring and Support
Mentoring and support pave the way for future success. Check out these peer review examples focusing on mentoring:
"Ben's dedication to mentoring new team members is commendable; his guidance is invaluable to our junior colleagues. His approachability and patience create an environment where learning flourishes."
"David's mentorship has been pivotal in nurturing the talents of several team members beyond his direct report, fostering a culture of continuous improvement. His ability to transfer knowledge is truly outstanding."
"Laura's patient mentorship and continuous support for her colleagues have helped elevate our team's performance. Her constructive feedback and guidance have made a remarkable difference."
"William's dedication to knowledge sharing and mentoring is a driving force behind our team's constant learning and growth. His commitment to others' development is inspiring."
Peer Review Examples on Communication Skills
Effective communication is the linchpin of harmonious collaboration. Here are some peer review examples to highlight your peer's communication skills:
"Grace's exceptional communication skills ensure clarity and cohesion in our team's objectives. Her ability to articulate complex ideas in a straightforward manner is invaluable."
"Oliver's ability to convey complex ideas with simplicity greatly enhances our project's success. His effective communication style fosters a productive exchange of ideas."
"Aiden's proficiency in cross-team communication ensures that our projects move forward efficiently. His ability to bridge gaps in understanding is truly commendable."
Peer Review Examples on Time Management and Productivity
Time management and productivity are the engines that drive accomplishments. Here are some peer review examples highlighting time management:
"Ella's time management is nothing short of exemplary; it sets a benchmark for us all. Her efficient task organization keeps our projects on track."
"Robert's ability to meet deadlines and manage time efficiently significantly contributes to our team's overall productivity. His time management skills are truly remarkable."
"Sophie's time management skills are a cornerstone of her impressive productivity, inspiring us all to be more efficient. Her ability to juggle multiple tasks is impressive."
"Liam's time management skills are key to his consistently high productivity levels. His ability to organize work efficiently is an example for all of us to follow."
Though these positive feedback examples are valuable, it's important to recognize that there will be instances when your team needs to convey constructive or negative feedback. In the upcoming section, we'll present 40 examples of constructive peer review feedback. Keep reading!
40 Constructive Peer Review Feedback
Receiving peer review feedback, whether positive or negative, presents a valuable chance for personal and professional development. Let's explore some examples your team can employ to provide constructive feedback, even in situations where criticism is necessary, with a focus on maintaining a supportive and growth-oriented atmosphere.
Constructive Peer Review Feedback on Work Quality
"I appreciate John's meticulous attention to detail, which enhances our projects. However, I noticed a few minor typos in his recent report. To maintain an impeccable standard, I'd suggest dedicating more effort to proofreading."
"Sarah's research is comprehensive, and her insights are invaluable. Nevertheless, for the sake of clarity and brevity, I recommend distilling her conclusions to their most essential points."
"Michael's coding skills are robust, but for the sake of team collaboration, I'd suggest that he provides more detailed comments within the code to enhance readability and consistency."
"Emma's creative design concepts are inspiring, yet consistency in her chosen color schemes across projects could further bolster brand recognition."
"David's analytical skills are thorough and robust, but it might be beneficial to present data in a more reader-friendly format to enhance overall comprehension."
Peer Review Examples on Competency and Job-Related Skills
"I've observed Megan's solid technical skills, which are highly proficient. To further her growth, I recommend taking on more challenging projects to expand her expertise."
"Robert's industry knowledge is extensive and impressive. To become a more well-rounded professional, I'd suggest he focuses on honing his client relationship and communication skills."
"Alice's project management abilities are impressive, and she's demonstrated an aptitude for handling complexity. I'd recommend she refines her risk assessment skills to excel further in mitigating potential issues."
"Daniel's presentation skills are excellent, and his reports are consistently informative. Nevertheless, there is room for improvement in terms of interpreting data and distilling it into actionable insights."
"Laura's sales techniques are effective, and she consistently meets her targets. I encourage her to invest time in honing her negotiation skills for even greater success in securing deals and partnerships."
Peer Review Examples on Leadership Skills
"I've noticed James's commendable decision-making skills. However, to foster a more inclusive and collaborative environment, I'd suggest he be more open to input from team members during the decision-making process."
"Sophia's delegation is efficient, and her team trusts her leadership. To further inspire the team, I'd suggest she share credit more generously and acknowledge the collective effort."
"Nathan's vision and strategic thinking are clear and commendable. Enhancing his conflict resolution skills is suggested to promote a harmonious work environment and maintain team focus."
"Olivia's accountability is much appreciated. I'd encourage her to strengthen her mentoring approach to develop the team's potential even further and secure a strong professional legacy."
"Ethan's adaptability is an asset that brings agility to the team. Cultivating a more motivational leadership style is recommended to uplift team morale and foster a dynamic work environment."
Peer Review Examples on Teamwork and Collaboration
"Ava's collaboration is essential to the team's success. She should consider engaging more actively in group discussions to contribute her valuable insights."
"Liam's teamwork is exemplary, but he could motivate peers further by sharing credit more openly and recognizing their contributions."
"Chloe's flexibility in teamwork is invaluable. To become an even more effective team player, she might invest in honing her active listening skills."
"William's contributions to group projects are consistently valuable. To maximize his impact, I suggest participating in inter-departmental collaborations and fostering cross-functional teamwork."
"Zoe's conflict resolution abilities create a harmonious work environment. Expanding her ability to mediate conflicts and find mutually beneficial solutions is advised to enhance team cohesion."
Peer Review Examples on Professionalism and Work Ethics
"Noah's punctuality is an asset to the team. To maintain professionalism consistently, he should adhere to deadlines with unwavering dedication, setting a model example for peers."
"Grace's integrity and ethical standards are admirable. To enhance professionalism further, I'd recommend that she maintain a higher level of discretion in discussing sensitive matters."
"Logan's work ethics are strong, and his commitment is evident. Striving for better communication with colleagues regarding project updates is suggested, ensuring everyone remains well-informed."
"Sophie's reliability is appreciated. Maintaining a high level of attention to confidentiality when handling sensitive information would enhance her professionalism."
"Jackson's organizational skills are top-notch. Upholding professionalism by maintaining a tidy and organized workspace is recommended."
Peer Review Feedback Examples on Mentoring and Support
"Aiden provides invaluable mentoring to junior team members. He should consider investing even more time in offering guidance and support to help them navigate their professional journeys effectively."
"Harper's commendable support to peers is noteworthy. She should develop coaching skills to maximize their growth, ensuring their development matches their potential."
"Samuel's patience in teaching is a valuable asset. He should tailor support to individual learning styles to enhance their understanding and retention of key concepts."
"Ella's mentorship plays a pivotal role in the growth of colleagues. She should expand her role in offering guidance for long-term career development, helping them set and achieve their professional goals."
"Benjamin's exceptional helpfulness fosters a more supportive atmosphere where everyone can thrive. He should encourage team members to seek assistance when needed."
Peer Review Examples on Communication Skills
"Mia's communication skills are clear and effective. To cater to different audience types, she should use more varied communication channels to convey her message more comprehensively."
"Lucas's ability to articulate ideas is commendable, and his verbal communication is strong. He should polish non-verbal communication to ensure that his body language aligns with his spoken message."
"Evelyn's appreciated active listening skills create strong relationships with colleagues. She should foster stronger negotiation skills for client interactions, ensuring both parties are satisfied with the outcomes."
"Jack's presentation skills are excellent. He should elevate written communication to match the quality of verbal presentations, offering more comprehensive and well-structured documentation."
"Avery's clarity in explaining complex concepts is valued by colleagues. She should develop persuasive communication skills to enhance her ability to secure project proposals and buy-in from stakeholders."
Feedback on Time Management and Productivity
"Isabella's efficient time management skills contribute to the team's success. She should explore time-tracking tools to further optimize her workflow and maximize her efficiency."
"Henry's remarkable productivity sets a high standard. He should maintain a balanced approach to tasks to prevent burnout and ensure sustainable long-term performance."
"Luna's impressive task prioritization and strategic time allocation should be fine-tuned with goal-setting techniques to ensure consistent productivity aligned with objectives."
"Leo's great deadline adherence is commendable. He should incorporate short breaks into the schedule to enhance productivity and focus, allowing for the consistent meeting of high standards."
"Mila's multitasking abilities are a valuable skill. She should strive to implement regular time-blocking sessions into the daily routine to further enhance time management capabilities."
Do's and Don't of Peer Review Feedback
Peer review feedback can be extremely helpful for intellectual growth and professional development. Engaging in this process with thoughtfulness and precision can have a profound impact on both the reviewer and the individual seeking feedback. However, there are certain do's and don'ts that must be observed to ensure that the feedback is not only constructive but also conducive to a positive and productive learning environment.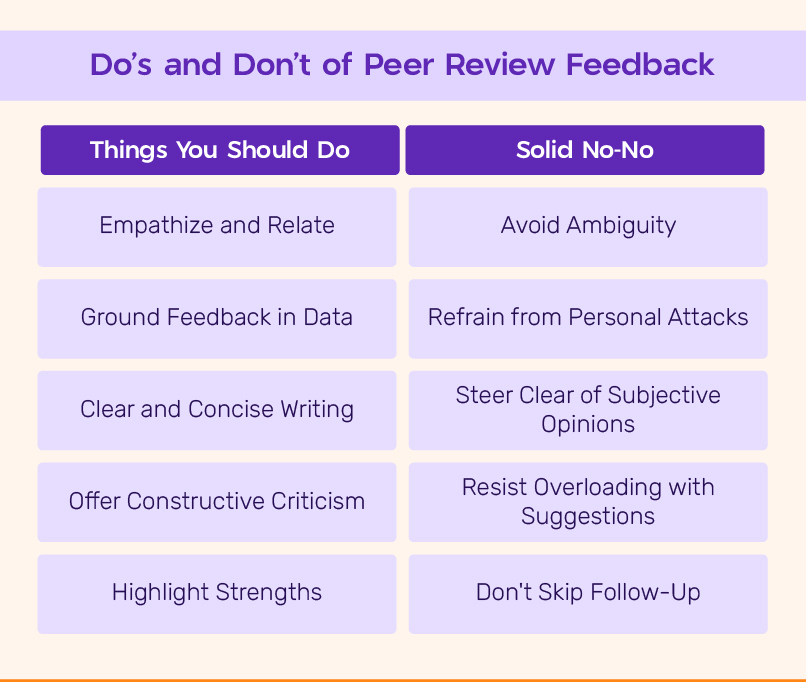 The Do's of Peer Review Feedback:
Empathize and Relate: Put yourself in the shoes of the person receiving the feedback. Recognize the effort and intention behind their work, and frame your comments with sensitivity.
Ground Feedback in Data: Base your feedback on concrete evidence and specific examples from the work being reviewed. This not only adds credibility to your comments but also helps the recipient understand precisely where improvements are needed.
Clear and Concise Writing: Express your thoughts in a clear and straightforward manner. Avoid jargon or ambiguous language that may lead to misinterpretation.
Offer Constructive Criticism: Focus on providing feedback that can guide improvement. Instead of simply pointing out flaws, suggest potential solutions or alternatives.
Highlight Strengths: Acknowledge and commend the strengths in the work. Recognizing what's done well can motivate the individual to build on their existing skills.
The Don'ts of Peer Review Feedback:
Avoid Ambiguity: Vague or overly general comments such as "It's not good" do not provide actionable guidance. Be specific in your observations.
Refrain from Personal Attacks: Avoid making the feedback personal or overly critical. Concentrate on the work and its improvement, not on the individual.
Steer Clear of Subjective Opinions: Base your feedback on objective criteria and avoid opinions that may not be universally applicable.
Resist Overloading with Suggestions: While offering suggestions for improvement is important, overwhelming the recipient with a laundry list of changes can be counterproductive.
Don't Skip Follow-Up: Once you've provided feedback, don't leave the process incomplete. Follow up and engage in a constructive dialogue to ensure that the feedback is understood and applied effectively.
Remember that the art of giving peer review feedback is a valuable skill, and when done right, it can foster professional growth, foster collaboration, and inspire continuous improvement. This is where performance management tools like Peoplebox come into play.
Start Collecting Peer Review Feedback On Peoplebox
In a world where the continuous improvement of your workforce is paramount, harnessing the potential of peer review feedback is a game-changer. Peoplebox offers a suite of powerful features that revolutionize performance management, simplifying the alignment of people with business goals and driving success.
With customizable feedback collection options, tailored survey forms, and configurable anonymity settings, Peoplebox empowers businesses to create a culture of development and collaboration through 360° performance reviews.
Seamlessly integrating with popular collaboration tools like Slack and Microsoft Teams, Peoplebox makes it super easy for HR teams to run reviews as they want and get higher adoption with less manual effort.
Elevate your team's performance with Peoplebox today.
Peer Review Feedback Template That You Can Use Right Away
Still on the fence about using software for performance reviews? Here's a quick ready-to-use peer review template you can use to kickstart the peer review process.
Download the Free Peer Review Feedback Form here.
If you ever reconsider and are looking for a more streamlined approach to handle 360 feedback, give Peoplebox a shot!