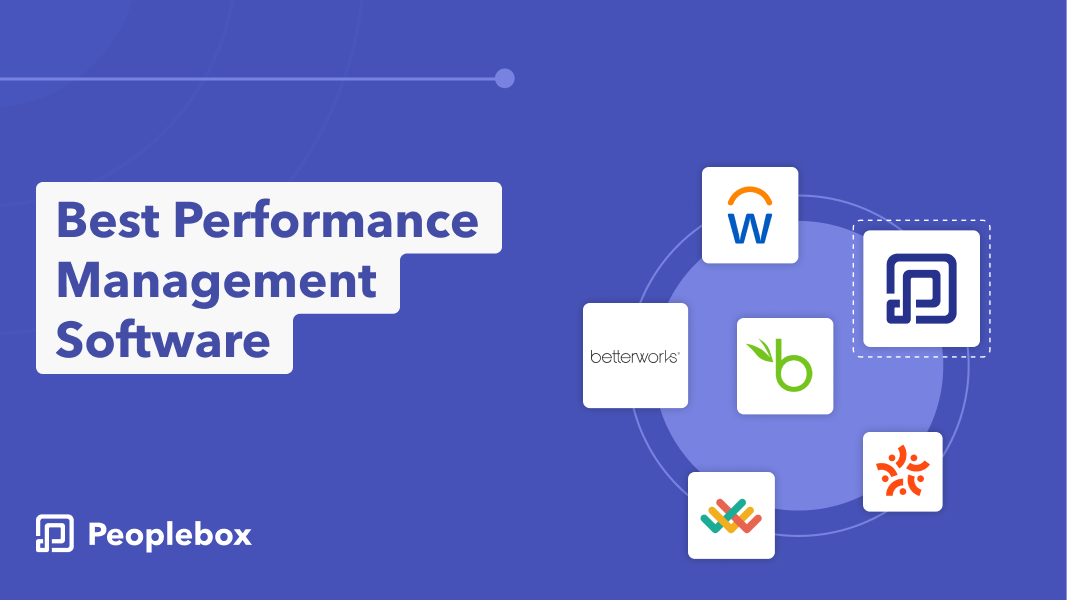 As businesses continue to evolve and adapt to changing times, the importance of effective performance management has only grown. To help organizations streamline their performance management processes, software companies have developed a variety of tools and platforms designed to enhance performance tracking, goal setting, and feedback delivery.
They typically include a range of features such as goal setting and tracking, performance evaluations, feedback and coaching, employee development planning, and reporting and analytics
The software allows managers to set performance expectations and track progress towards these goals, as well as to provide ongoing feedback and coaching to employees. This can help to improve employee engagement, motivation, and productivity, and ultimately contribute to better business outcomes.
Performance management software offers numerous benefits to organizations. It is inclusive of (but not limited to) the following:
It helps organizations set and communicate clear goals and performance expectations to their employees. This ensures that employees understand what is expected of them and that they can align their goals with the organization's objectives.

Performance management software provides a platform for ongoing feedback and coaching. Managers can provide regular feedback to their employees, and employees can ask for feedback on their performance.

Performance management software helps organizations track employee performance over time. This allows organizations to identify trends and patterns in employee performance, and take action to address any issues that arise. For example, if an employee is consistently underperforming, the organization can provide additional training or coaching to help them improve.
Performance Management Software helps HR leaders run transparent 360-degree performance reviews and integrate them with OKRs & compensation.
Some of the best performance management software offers innovative solutions to meet the needs of businesses of all sizes and industries. These software platforms not only help organizations assess employee performance but also offer valuable insights and data to improve overall performance management strategies.
In this article, we will explore some of the best performance management software in 2023, their key features, pros and cons and will also give you a comparative analysis of these platforms.
Top 10 Performance Management Tools
Peoplebox is a performance management tool that helps businesses streamline their performance management processes. It offers a range of features that help managers and HR professionals track employee performance, set goals, and provide feedback.
Peoplebox offers robust goal-setting and tracking features that help managers and employees set and monitor progress toward specific objectives. It provides a centralized platform to track employee goals, monitor progress, and provide timely feedback on performance.
It offers data-driven insights to help organizations make informed decisions and continuously improve their performance management processes. You also get to integrate tools like Jira, Asana, Slack, etc to make goal alignment and tracking easy for everyone.
Notable Features
1. Single Page Interface
Peoplebox has a single-page interface which provides users with a complete view of all company goals, team tasks, individual performances, progress reports, charts, etc in one location. The simple UI makes it easy to use and navigate the app and for setting and monitoring goals, ensuring that users can quickly and easily track progress towards their objectives. This intuitiveness of the interface makes managing review cycles magically easy.
2. Performance review entirely on Slack/Microsoft Teams
Peoplebox's 360-degree review feature enables users to manage all aspects of performance management through Slack/Microsoft Teams, including automatically updating OKRs and KPIs in real time, scheduling 1:1 meetings for data reviews, and customizing the review process to meet specific requirements. It also allows employees to easily retract and modify their reviews.
It streamlines the performance review process with features such as nudges, reminders, self-reviews, and goal check-ins, all of which can be managed from Slack/Microsoft Teams.
Download Our Guide: Simplify Performance Reviews with Slack & Peoplebox
3. Integrations with over 100+ native tools
Peoplebox integrates with 100+ native tools like Slack, HRIS, Jira, Asana, MySQL, Google Sheets-Analytics, Salesforce, Notion, Outlook, Okta, BambooHR, and Zoho People, among others. These integrations allow for automatic real-time updates of goals across all linked tools, enabling users to track progress efficiently.
It also facilitates auto-populated dashboards for business reviews and weekly check-ins, providing quick insights into team performance and highlighting areas for improvement.
4. Auto-Schedule 1:1s with review data
Peoplebox's auto-scheduling feature streamlines the process of setting up 1:1 meetings between managers and direct reports, saving time and increasing efficiency. This feature includes the ability to automatically integrate review data into the meetings, further enhancing their effectiveness.
5. Customizable dashboards
Peoplebox offers customizable dashboards that allow users to add KPIs in real-time, narrations, charts, and action items to automatically track OKR progress. It facilitates efficient weekly and monthly business review meetings by identifying potential roadblocks in advance, enabling teams to proactively address them before business review meetings. This allows teams to focus on solving issues rather than spending time identifying them during meetings.
Pros of Peoplebox
G2 has rated Peoplebox as the most user-friendly performance management and OKR software available because of its intuitive and simple interface.
Peoplebox emphasizes strongly on employee engagement and development. With their 1:1 meeting feature being specially useful in facilitating regular check-ins and ensuring everyone is on the same page, it fosters a collaborative work environment.
Source
It offers excellent OKR setting and tracking features. It breaks down OKRs and provides a clear view of what needs to be accomplished. This allows users to effectively measure progress and monitor their journey towards achieving their goals.
Peoplebox is an all-in-one platform that combines several features, including OKRs, business review meetings, KPI tracking, complete performance management, and employee engagement, into a single solution.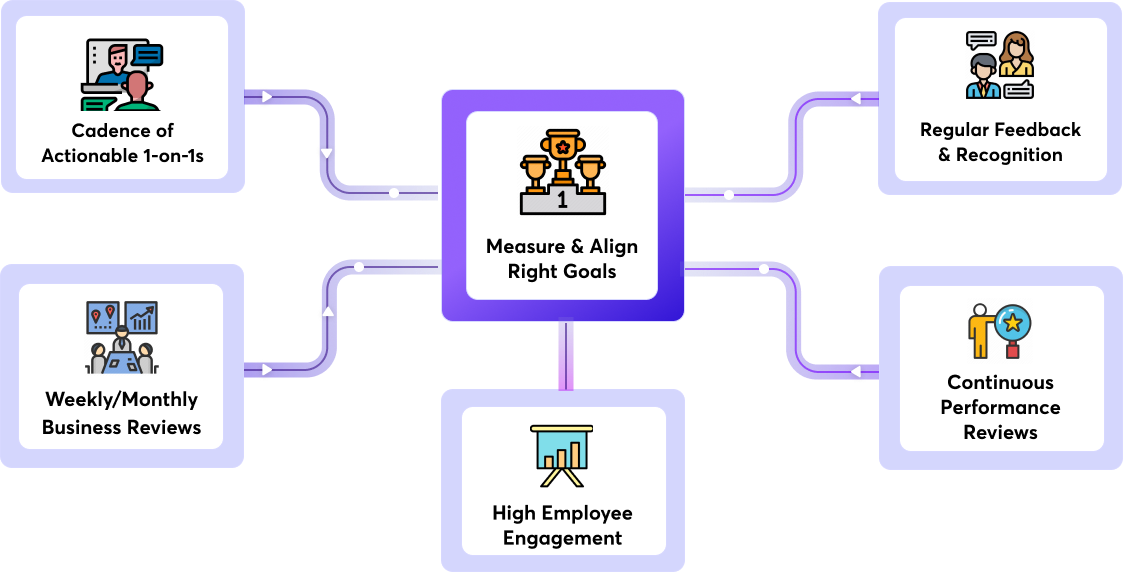 Cons of Peoplebox
Only supports English as of now
Because it provides real-time data, users can feel intimidated in case of low performance initially.
2. 15Five
15Five is a performance management software that aims at enhancing employee engagement, productivity, and overall performance. The software offers several features like weekly check-ins, goal setting and tracking, performance reviews, employee recognition and more. 15Five fosters communication and collaboration between managers and employees, facilitating regular feedback and coaching to help drive individual and organizational success.
Notable Features
1. OKR tool
15Five simplifies the process of achieving alignment in the organization, crystal-clear focus, and highly engaged teams through its OKR and goal-setting features. The platform assists in setting and tracking top objectives for all members of an organization, making the process easier and more efficient.
2. Performance management tool
15Five provides a user-friendly performance management solution that offers a 360-degree view of employees, enabling HR leaders to make informed decisions. The platform is highly flexible and fits into all HR strategies, company cultures, or tech stacks.
3. Manager engagement tool
15Five offers a manager engagement tool that allows managers to quickly and effectively apply new skills for immediate impact. The platform upgrades every manager instantly by improving existing skills and providing new ones. It reinforces every manager's efforts, develops them as leaders, and generates momentum throughout teams and the company.
Pros of 15Five
15Five allows for easy progress tracking and feedback gathering from team members.
It generates reports that provide valuable insights into work performance.
It helps stay organized and track performance over time with its easy-to-use interface.
Cons of 15Five
The platform lacks prompt customer support services.
The implementation process only involves a series of videos without any opportunities for personal interaction.
3. Lattice
Lattice is an HR and performance management platform. It offers a robust tool for goal setting, feedback, performance reviews, and employee engagement. The platform aims to support companies in building and managing high-performing teams by providing them with the necessary resources to set and monitor goals, deliver consistent feedback, and carry out effective performance evaluations.
Notable Features
1. Performance management
Lattice offers a complete performance management solution that includes performance evaluations, 1:1 meetings, and ongoing feedback to assist managers in keeping track of their team's advancement. It facilitates effective management of employee performance, guarantees prompt and constructive criticism, and enhances the productivity of the team as a whole.
2. Powerful analytics
Lattice provides powerful analytics functionalities that enable HR specialists to make informed decisions by monitoring performance and detecting patterns and trends. The analytics feature comprises AI-powered sentiment analysis, which helps in understanding employee emotions and sentiments.
3. Lattice engagement feature
Lattice Engagement is a unique solution for improving employee experience that helps companies identify the key drivers of employee engagement. By combining performance metrics, it provides detailed insights and recommends the most effective actions that the company can take to improve engagement levels.
Pros of Lattice
Lattice has gained recognition for its capability to consolidate and analyze vast amounts of data from different sources, offering valuable insights that can aid organizations in making well-informed decisions.
With its strong feature set, the platform supports organizations in developing strategies that align with industry best practices for compensation, employee engagement, and performance management.
Lattice's employee engagement feature provides detailed reporting, while its powerful evaluation tools enable managers to monitor employee performance and provide guidance on goal optimization.
Cons of Lattice
Lattice does not have the option to mark goals as completed, resulting in persistent reminders unless the goals are deleted.
The mobile app of Lattice sometimes has usability issues, as certain essential features may be absent or not optimized for mobile devices.
Lattice demands technical proficiency to configure and operate proficiently.
The platform offers a user-friendly interface. However, the users may need to possess some expertise in data management and analytics to leverage its advanced functionalities effectively.
4. Betterworks
Betterworks is a performance management software tool that aims to help companies align and motivate their workforce towards achieving organizational goals. The platform offers a range of features, including goal setting and tracking, performance evaluations, continuous feedback, and analytics. It also provides coaching and development to help employees grow and develop their skills.
Notable Features
1. Collaboration
Betterworks cultivates a collaborative work environment that encourages continuous improvement through promoting collaboration, communication, and engagement. Its features like easy feedback sharing, review management, report generation, and performance recognition, facilitate seamless collaboration among team members.
2. Fosters agility
Betterworks enables agile goal setting which enables users to promptly adapt to changing circumstances. With its customizable goals and OKRs, you can easily modify your priorities as needed.
3. Better alignment
Betterworks fosters alignment across the organization by providing visibility into the company's overall strategy. The platform promotes transparency in alignment, progress tracking, and analytics, enabling continuous improvement.
Pros of Betterworks
The software is user-friendly and customizable, enabling organizations to configure it to meet their specific needs.
With its comprehensive approach to performance management, Betterworks enhances employee engagement and productivity while fostering a culture of continuous improvement.
Cons of Betterworks
The tool has a steep learning curve, and it is necessary to invest dedicated time in the courses offered by Betterworks to learn the implementation of OKRs.
The navigation of the platform becomes confusing because of the various options and routes available to reach a particular page.
5. BambooHR
BambooHR is an HR software solution that streamlines HR processes and helps organizations manage their workforce effectively. The platform offers a range of features, including employee data management, administration, time tracking, and reporting. BambooHR also provides recruitment and onboarding functionalities, enabling organizations to attract and retain top talent.
Notable Features
1. Complete HR platform
BambooHR offers a complete HR platform that simplifies and supports every aspect of the employee experience. The platform's intuitive features and flexible integrations are all linked to a single, secure source of data.
2. HR Data and reporting
BambooHR offers a comprehensive HR data management solution, providing instant, pre-built reports, automated workflows, and advanced analytics to support HR processes.
3. Employee experience and performance
BambooHR provides tools to gather feedback, enhance employee satisfaction, and promote employee growth, contributing to a positive employee experience and improved performance.
Pros of BambooHR
The software is user-friendly, customizable, and integrates with other systems such as payroll and applicant tracking systems.
With its comprehensive approach to HR management, BambooHR can enhance productivity, employee engagement, and compliance while saving time and reducing administrative burdens.
Cons of BambooHR
The support provided by BambooHR for tax and W2 corrections has been inadequate and has caused huge dissatisfaction among users.
While BambooHR offers a robust set of features, one limitation is the inability to customize certain aspects of the platform. Users do not have full control over certain features, such as the calendar, which may prevent them from adding more items or editing certain entries.
6. Workday
Workday is a cloud-based enterprise software platform that provides financial management, human capital management, and analytics applications for businesses of all sizes. Companies can manage their finances, payroll, and human resources all in one place with Workday as it offers a comprehensive solution for businesses looking to streamline their operations and improve their overall efficiency.
Notable Features
1. Analytics
Workday provides analytics to guide informed decision-making. The platform's analytics feature helps you leverage vast datasets to find insights. It also presents them in a comprehensible format.
2. Automation
Workday offers intelligent automation freeing up your team from manual tasks and enabling them to focus on more productive work. This automation makes work less burdensome, streamlining processes and increasing efficiency.
3. Tailored rewards to meet diverse needs
Workday's compensation and benefits tools provide the flexibility to design plans that fit the requirements of different employees. This enables you to provide your workforce with the compensation they merit.
Pros of Workday
The platform is user-friendly and intuitive, with features that allow for easy customization and integration with other business applications.
It provides real-time data and insights to help businesses make informed decisions. The platform is scalable and adaptable, making it a great choice for companies looking to grow and expand.
Cons of Workday
According to some user reviews, Workday can be frustrating and confusing at times.
Processes take longer than expected and completion notifications arrive later than desired.
The interface appears a little outdated. It also lacks clarity on how to provide feedback to Workday.
7. Leapsome
Leapsome is a performance management and employee engagement software designed to help organizations drive continuous growth and development. The tool offers features such as goal setting, continuous feedback, 360-degree reviews, 1:1 meetings, and performance analytics, all in one intuitive platform.
Notable Features
1. Customizable OKR framework
Leapsome offers customized OKR frameworks that cater to the specific objectives and goals of your company. The platform provides a personalized dashboard that can easily adapt to create, monitor, and update OKRs while tracking progress in real-time.
2. Collaborative workplace
Leapsome cultivates a collaborative environment in the workplace by allowing you to share and receive feedback on goals, engage in discussions, and leave comments to track progress.
3. Goal tree
Leapsome's Goal Tree feature allows you to interconnect company, team, and individual goals, presenting a visual representation of the ownership and dependence of OKRs.
Pros of Leapsome
Leapsome, managers and employees can collaborate in real-time, set objectives that align with business goals, and provide feedback to each other to promote growth and development.
The tool also has a customizable interface that can be tailored to fit specific business needs and processes.
It is user-friendly which makes it easy to use the tool. The platform's clear instructions and user-friendly interface improve the overall user experience.
Cons of Leapsome
The platform initially presents a wide range of options, and it would be beneficial if users could customize or hide these options according to their preferences without needing HR support or approval.
The platform's navigation can be complex when it involves multiple layers, and its search functionality could be improved by including options to search by role or manager.
8. Paylocity
Paylocity is a cloud-based human resources and payroll software solution that enables businesses to streamline their HR and payroll processes. The software provides a range of tools to manage HR, including onboarding, benefits administration, time and attendance tracking, and compliance management. With Paylocity, employees can also access their payroll information and benefit from a self-service portal.
Notable Features
1. Comprehensive payroll processing
Paylocity offers a complete payroll solution that streamlines the entire process from start to finish. This includes automatic tax calculations and filing, direct deposit, and a user-friendly interface that makes it easy to manage employee payroll data.
2. Time and attendance tracking
Paylocity's time and attendance tracking system is a powerful tool that helps businesses manage employee time off, absences, and schedules with ease. The platform can integrate with a variety of time clock systems, including biometric, web-based, and mobile clock-in options. HR and benefits management
3. HR suite
Paylocity offers a suite of HR and benefits management tools that allow businesses to automate and streamline their HR processes. This includes tools for onboarding new employees, managing employee records and documentation, and tracking employee performance. The platform also offers benefits management features that allow employees to view and manage their benefits packages online and provides a centralized location for managing all aspects of employee benefits.
Pros
Paylocity offers mobile applications that allow employees to manage their HR and payroll information on the go, making it a convenient solution for both employers and employees.
It provides managers with real-time visibility into employee time and attendance data, enabling them to make informed decisions about staffing and resource allocation.
Cons
The user experience of the platform is a little complicated, making it difficult for users to navigate and locate specific functions and features within the system.
It's important for prospective users to take into account the potential limitations of the customer support offered by the platform. There are instances of delay and incorrect information being delivered for the requested issues.
9. ADP Workforce Now
ADP Workforce Now is a cloud-based human resources management solution designed to help businesses of all sizes streamline their HR processes. The platform offers a wide range of features, including payroll processing, compliance management, and talent management. It also provides robust reporting capabilities, enabling tracking of key HR metrics and gaining insights into their workforce. Additionally,
Notable Features
1. All-in-one HR suite
ADP Workforce Now allows you to manage your entire workforce from a single dashboard, powered by a single database, ensuring that the necessary information is always available when you need it. This platform offers a comprehensive HR suite that includes payroll, time, HR, talent, and benefits, all in one place.
2. Intuitive tools
ADP Workforce Now offers a suite of intuitive tools that are designed to boost productivity and streamline workflows for business leaders, managers, and workers. With ADP Workforce Now, you can easily manage complex HR tasks, such as scheduling, time tracking, and benefits administration, all from a single, user-friendly dashboard.
3. Tailored services
It is designed to help organizations with everything from implementation to optimization. They have dedicated teams to ensure your unique needs are met from day one. With in-house implementation support from a team of experts who specialize in optimizing solutions for your industry, you get a seamless implementation experience.
Pros of ADP Workforce Now
ADP Workforce Now is highly customizable, allowing businesses to configure the platform to meet their specific needs.
The platform is accessible via desktop or mobile devices, making it easy for employees to access their HR information from anywhere.
ADP Workforce Now is backed by ADP's industry-leading security measures, ensuring that employee data is protected at all times.
Cons of ADP Workforce Now
Despite a recent UI update, the complexity of the platform still poses a challenge in achieving user-friendliness.
According to users, there is a high risk of errors during the manual entry process, making it even more challenging. Users feel that ADP seems to be modern on the surface, but some of its back-end processes can be cumbersome and complicated.
10. Engagedly
Engagedly is a comprehensive performance management and employee engagement software. This platform emphasizes both people and strategy through its OKR tool. Its People Success Model is geared towards bridging the gap between people and strategy and consists of a three-pillar framework that aligns organizational strategy with people strategy.
Notable Features
1. Three-pillar strategy
The three-pillar strategy includes executing performance, enabling development, and engaging people which are all critical areas of focus for enhancing overall organizational efficiency.
2. Social recognition
Engagedly's social recognition feature allows team members to give and receive feedback and recognition in real time, boosting employee morale and motivation. The platform also offers a 360-degree feedback tool, which enables employees to receive feedback from multiple sources, including peers, managers, and customers.
3. Performance management
Engagedly offers a range of performance management tools like goal setting, performance reviews, and real-time feedback. The platform also includes a robust learning management system that enables managers to create and deliver customized training content to employees.
Pros of Engagedly
Robust goal tracking at the company, team, and individual levels. This allows for a clear understanding of progress and aligns everyone towards the same objectives.
The tool is flexible when it comes to giving or receiving feedback. This enables effective communication between managers and team members, leading to continuous improvement and development.
The initial setup may require some effort. However, the platform is user-friendly and easy to navigate once implemented.
Cons of Engagedly
The advanced reporting capabilities are limited, and there are only fewer options for customization available in the tool.
The setup process can be time-consuming and may require a learning curve for users.
Comparison of the Top Performance Management Tools
Tool
Performance Management Features
Pricing
Peoplebox
1. Single page app
2. Goal-setting and tracking
3. Customizable dashboards
4. 360-degree reviews in Slack/Microsoft team
5. Continuous feedback reports (CFRs)
6. 1-on-1s
7. Check-ins with calendar integration
8. Sentiment analysis of performance reviews
9. 9-box with bell curve
10. Calibration 
Starting at $7/month/user
15five
1. Employee recognition and rewards
2. Social recognition
3. Real-time feedback
4. Peer-to-peer recognition
5. Employee surveys and feedback collection
6. 1-on-1 meeting facilitation
7. Performance review templates and guidance
8. Manager performance analytics
9. Virtual team-building activities
10. Remote performance evaluation features
11. Collaboration and project management tools integration
Starting at $8/month/user for perform package
Lattice
1. Continuous performance management
2. Powerful analytics
3. Employee engagement and feedback
4. Employee recognition
Starting at $11/month/user
Betterworks
1. Enables quick adaptation to changing circumstances
2. Customizable goals and OKRs for flexible prioritization
3. Supports regular one-on-one meetings
4. Provides structure for effective communication and feedback
5. Offers tools for easy feedback sharing
6. Manages review processes for constructive criticism
7. Helps identify key drivers of engagement and offers actionable insights
Contact Sales for pricing
BambooHR
1. Complete HRIS (Human Resources Information System)
2. Time off tracking
3. Performance management
Contact Sales for pricing
Workday
1. Human Capital Management
2. Analytics
3. Automation
4. Tailored rewards
Contact Sales for pricing
Leapsome
1. Goal tree
2. Dedicated Customer Success (CS) manager
3. Objectives and Key Results (OKRs)
4. Supports regular one-on-one meetings
5. Feedback tools
6. Performance management capabilities
7. Engagement surveys
Contact Sales for pricing
Paylocity
1. Payroll
2. Time and attendance
3. Talent management
Contact Sales for pricing
ADP Workforce
1. Payroll
2. HR management
3. Workforce management
4. Tailored services
Contact Sales for pricing
Engagedly
1. Goal-setting and tracking
2. Performance management
3. Social recognition
4. Employee feedback
Starting annual agreement at $5000

Considerations for Choosing Performance Management Tools
When you decide to incorporate a performance management system in your organization, consider the following:
Company size and needs

Consider the size of your company and the specific needs of your organization. Smaller businesses may have different needs than larger organizations. For instance, smaller businesses may need a tool that is more cost-effective, while larger organizations may require a more robust system to manage a larger workforce. Also consider the specific features that you need, such as robust OKR setting and tracking, ease of performance evaluations through Slack, etc.

Integration with other software

Your performance management tool should integrate seamlessly with other software and tools that you use. Seamless integrations will save you time and prevent data duplication or errors.

Ease of use

The performance management tool should be user-friendly and easy to use for both managers and employees. A complicated system may discourage employees from using it, which can impact the effectiveness of the tool. A tool with a single-page interface and very simple navigation is ideal.

Customer support

Choose a performance management tool that provides excellent customer support. This will ensure that you can quickly resolve any issues that arise and receive help when needed. Look for a tool that offers coaching to help you implement the tool seamlessly. 
Your Performance Evolution Starts with Peoplebox
Selecting a performance management tool is a strategic decision that profoundly influences an organization's success. As the digital landscape evolves, a tool that simplifies and optimizes performance evaluation processes is essential. The right tool can foster a culture of accountability, open communication, and continuous growth.
In this context, Peoplebox offers more than just a solution; it provides a framework for excellence. Seamlessly integrating various aspects of performance management like 1:1, check-ins, and performance reviews, Peoplebox empowers organizations to navigate the complexities of workforce management confidently.
To learn more about our employee performance management software, request a free demo with us!
FAQs
Q: What are employee performance management tools? 
Employee performance management tools are software solutions designed to streamline and enhance the process of evaluating and managing employee performance. These tools offer features like goal setting, performance tracking, feedback collection, and data analytics to help organizations measure, improve, and align individual performance with company goals.
Q: Why should I consider using performance management software? 
Performance management software offers numerous benefits, including efficient performance tracking, data-driven insights, streamlined feedback processes, and enhanced communication between employees and managers. These tools automate manual processes, provide a centralized platform for performance-related activities, and contribute to a more transparent and productive work culture.
Q: What criteria should I consider when comparing performance management software? 
When comparing performance management tools, it's important to consider factors like scalability, ease of use, integration capabilities with other HR software, customizable features, reporting and analytics, user feedback and reviews, and cost-effectiveness. Also, ensure the tool aligns with your organization's needs and goals.
Q: Can performance management software help with employee engagement?
Yes, many performance management tools offer features that can significantly impact employee engagement. These include continuous feedback mechanisms, recognition and reward systems, clear goal alignment, and career development planning. Engaged employees are more likely to be motivated, productive, and committed to their work.
Q: Why is keeping up with the latest performance management software trends crucial? 
The field of performance management is evolving rapidly, with advancements in AI and data analytics, remote work capabilities, and user-friendly interfaces. Keeping up with the latest trends ensures that your organization remains competitive and efficiently manages employee performance. The right performance management solution can provide insights into employee strengths and areas for improvement, contributing to overall business success.