Easily integrate goals and performance into people's workflows
Goals and performance management have never been easier, quicker and impactful, thanks to Peoplebox seamless integration with your existing tools and workflows.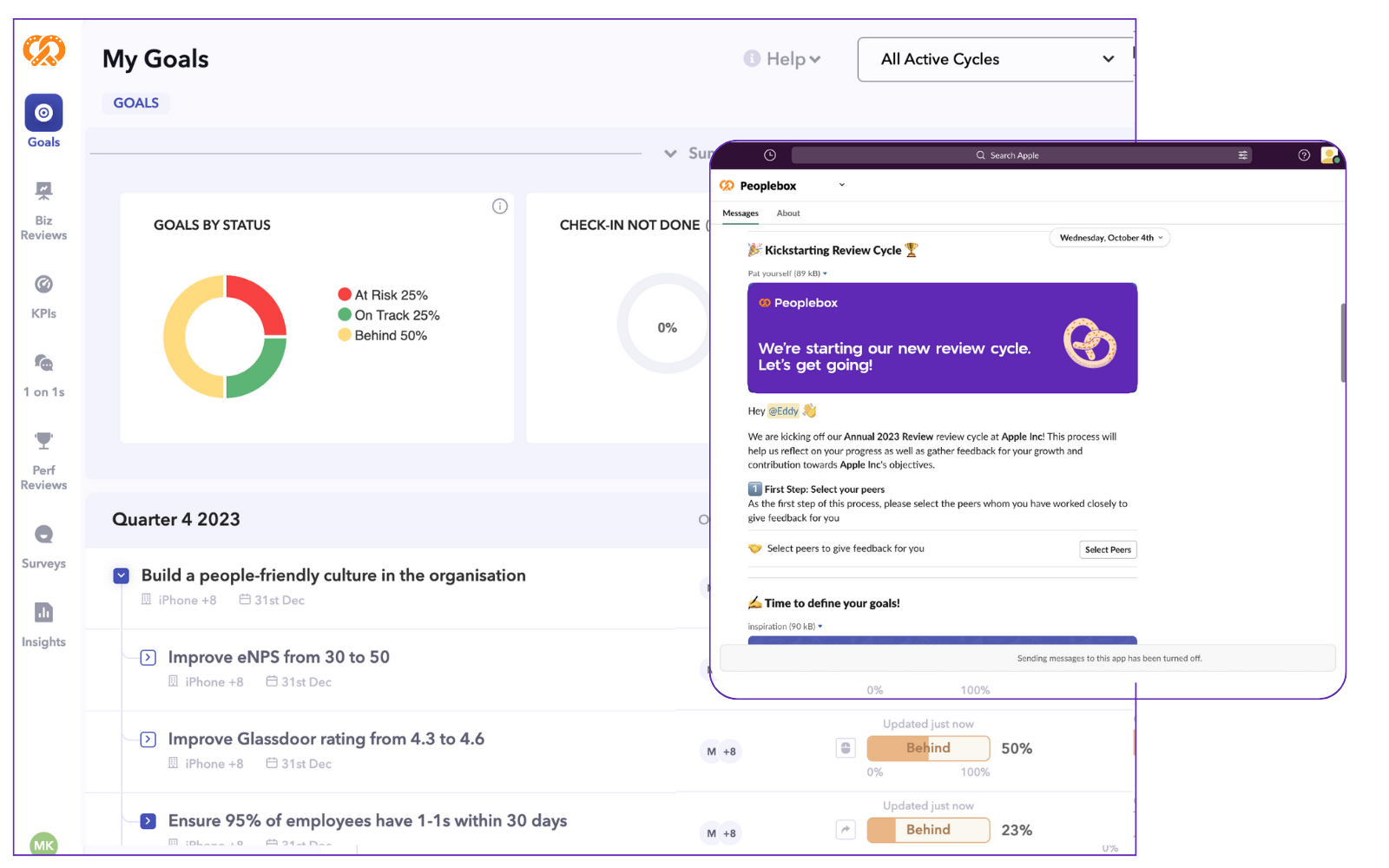 Loved ❤️ by 500+ leading enterprises​
One integrated performance management platform to
drive performance, engagement and execution
A single platform to drive business and people performance
Let people fall in love with Performance Reviews
Identify, align and retain top talent
Build an open feedback-driven culture
Be where the work is happening
Peoplebox support 50+ ready-to-use integrations across Databases, SaaS Applications, HRMS and Communication platform.
Effortlessly connect any source and automate tracking goals, performance & engagement.
Drive 10x adoption and engagement with our seamless Integration with Slack and Teams
I chose Peoplebox because it had integrations with the tools we use for sales and engineering to automate updating of key results.
Dominic Williamson
Thanks to its simplicity, we achieved great company-wide OKR adoption within two quarters.
Rohit Arumugam
The biggest advantage was the flexibility it offers to integrate with other tools. We ran our 360 review cycle and its been a breeze for me and my team to manage the entire process.
Ruchika Sawhney
Not only did the employees find it easier to complete the performance review process, but also the after sales support made us really happy by solving our pain points effectively
Babu V
Driving the entire interface through slack is simply brilliant especially for a tech product company! There was zero time spent on training! It can not get easier than that!
Swapna Nair
What stood out is the deep understanding of the Peoplebox team and their willingness to listen & enhance the platform to scale with our long-term needs.
Khilan Haria