Dynamic KPI Board to track & review KPIs effectively
With KPI Board, You can set individual, team & company KPIs & track them in weekly, monthly, quarterly or yearly view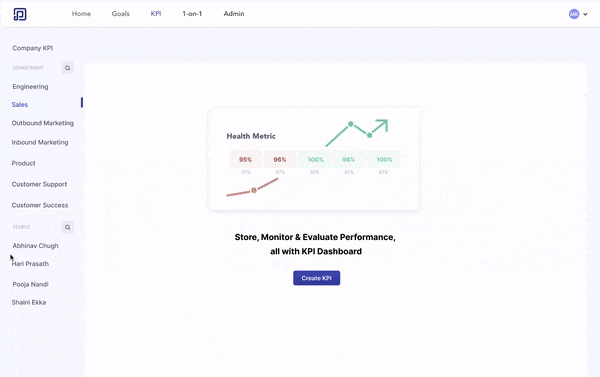 Identify road-blockers and make better & faster decisions
Bridge the gap between strategy & execution through better accountability & focus. Make OKRs & KPIs part of your business review meetings and spend less time in preparing for reviews & more time resolving road-blockers.
Track key KPIs against target
Set targets for KPIs and track them automatically with 100+ native integrations. Add KPI board in your review dashboard to identify what's working and what's not.
Customised & Interactive Review Dashboards
These dashboards are not just fully customizable but also dynamic & interactive too. On top of this, it can be shared & downloaded as a beautiful PPT.
Streamline Business Review Meetings
Auto-update KPIs with native integrations. Eliminate unnecessary review preparation time
Enterprise Standard OKR Platform
Turn your strategies into exceptional results faster with the single place to align, track and review your strategic priorities, cross-aligned goals & initiatives automatically in real-time.
Set Cross Functional
OKRs
Eliminate cross-functional silos
Align with Strategic Priorities & Key Initiatives
Make your goals reflect strategy to provide more clarity.
Track and Review Progress on Goals & Key Initiatives
Identify red-flags on-time and execute faster with better focus
We ensure your OKRs are updated in real-time.
Peoplebox integrates with your work tools to automatically update progress on goals & projects in real-time so that you can save time in updating progress and can do better business review meetings.
Easiest way to track & review OKRs
I chose Peoplebox because it had integrations with the tools we use for sales and engineering to automate updating of key results.
I'm glad that we partnered with Peoplebox for our company-wide OKR rollout.
Thanks to its simplicity, we achieved great adoption within two quarters.
Rohit Arumugam,
Chief of Staff
We explored moving from Gsheets to a tool but nothing came close to Peoplebox.
What stood out is the deep understanding of the Peoplebox team and their willingness to listen and enhance the platform to scale with our long-term needs.
Khilan Haria,
VP and Head of Payments Product
The Performance Review module is by far has to be one of the most easy to use tools
Driving the entire interface through slack is simply brilliant especially for a tech product company! There was zero time spent on training! It can not get easier than that!
It solves major touch points and use cases for a startup intending to implement OKRs
The simplicity of onboarding, clarity of how objectives and key results are presented.
Malay Krishna,
Senior Product Manager
Interested in other product?
Peoplebox is an all-in-one platform for People & Strategy leaders to drive exceptional business results & retention.
Manage & track team performance easily, that too all within Slack
Retain top talent & build an elite culture
Track & review goals easily to achieve faster business results